So you're sitting in that dreaded paper gown, swinging your legs off the exam table as your doc asks, "When was the first day of your last period?" Ugh, you knew this question was coming and yet you still hem and haw for a bit before answering something generic like, "Hmmm, a few weeks ago."
Sound familiar? Knowing zilch about your menstrual cycle isn't just inconvenient at the doctor's office (or when you realize you need a tampon like right now). "Changes to your cycle, or abnormalities—like irregular or heavy bleeding, or severe pain—can all signal issues that benefit from medical evaluation," says Rashmi Kudesia, MD, reproductive endocrinologist and clinical assistant professor of obstetrics and gynecology at Houston Methodist. "If something suddenly changes with your cycle, or your period is late, you may not realize it right away if you're not keeping track." Enter, period tracking apps.
First things first: You might be wondering whether period tracking apps are really that accurate. The answer: They should be—that is, if you're a woman who has a regular ovulatory cycle and who habitually updates the app.
While each app has its own algorithm, they all depend on accurate input of info from the user so that they can best generate an estimated day of ovulation, a five-to-six day fertile window, and the date of your next period, per Dr. Kudesia. The longer you're tracking your cycle, the more data the app's algorithm has to work with, and the more likely it is to be correct.
Yes, period tracking apps can sometimes be wrong—especially if you're a woman with an irregular or variable cycle. "For example, if your cycle ranges from 28 to 32 days in length, the ovulatory window shifts three to four days each month," Dr. Kudesia says. "Though the app shouldn't miss the entire fertile window, it may be unable to pinpoint the exact day of ovulation." Similarly, if you have a cycle longer than 35 days, there is, in Dr. Kudesia's words, "a substantial likelihood" that you're not regularly ovulating, which the app may not flag as possibility.
Assuming the above scenarios aren't happening and you have a fairly regular cycle, a period tracking app can help you calculate the average length of your cycle, which it'll then use to help you predict your next period. They can also help you chronicle any symptoms during your cycle.
Thankfully, there are dozens of period tracking apps available for download that make tracking your period as easy as sending a text message or checking your Facebook notifications. These are the 11 best period tracking apps out there, according to ob-gyns.1Clue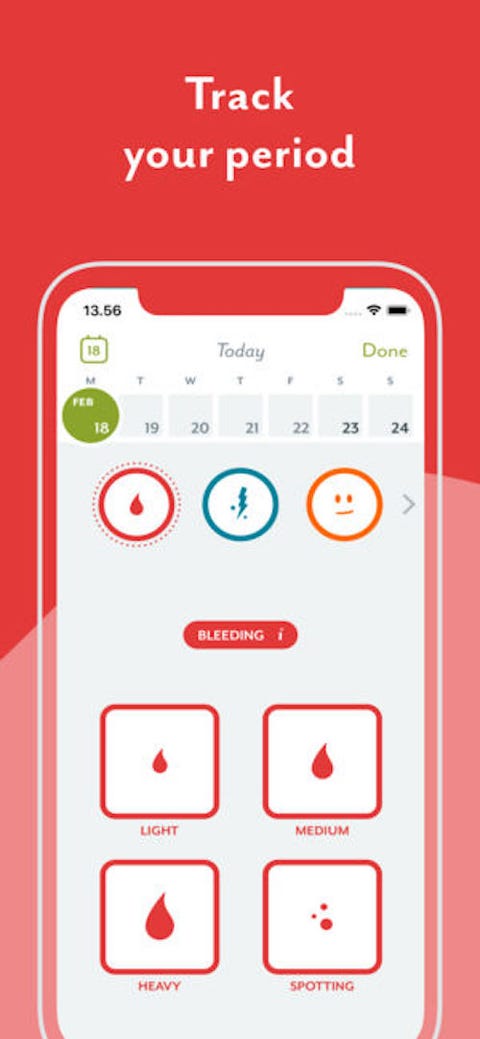 Clue markets its app as being able to teach you about your body (because be honest, you weren't paying attention back in sex ed class).
With tracking options related to literally everything that goes on in your body during your cycle, like your period-induced breakouts or your PMS headaches, this one is pretty legit. It's also Dr. Kudesia's favorite app, and the one she actually uses herself.
"I like its clean, modern interface, the impeccable science behind it, their transparent citation of supporting data, and the multitude of options you have for what you can track," she explains.
2Flo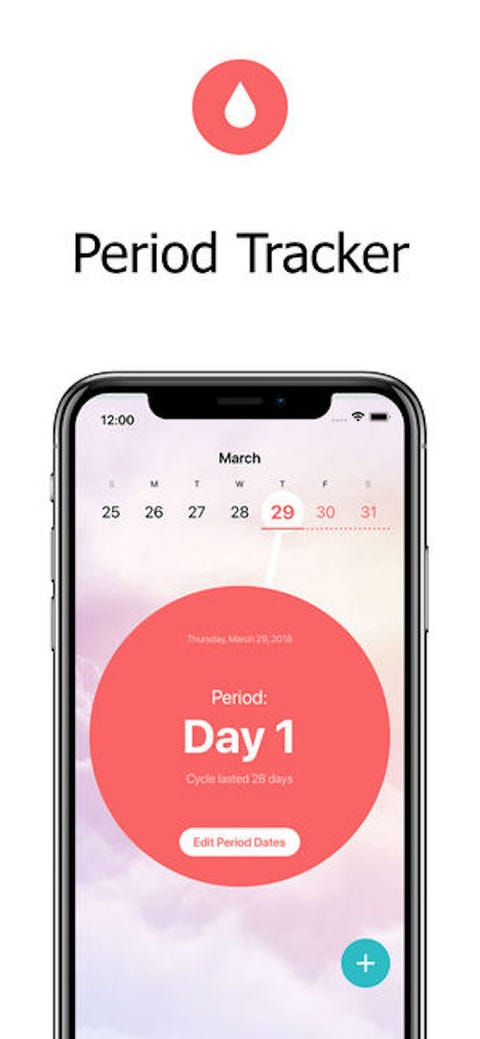 If you don't use the Flo app already, you probably know someone else who does—it's just that popular.
Literally millions of users log in daily to record ovulation and period symptoms, turning their data into super useful graphs that show exactly what your body is doing and when. (These also come in handy at your doctor appointments, whether you think something's up with your reproductive cycle or not.)
Bonus: Flo also turns into a pregnancy tracker if and when you ever need it to, so it's pretty all-in-one.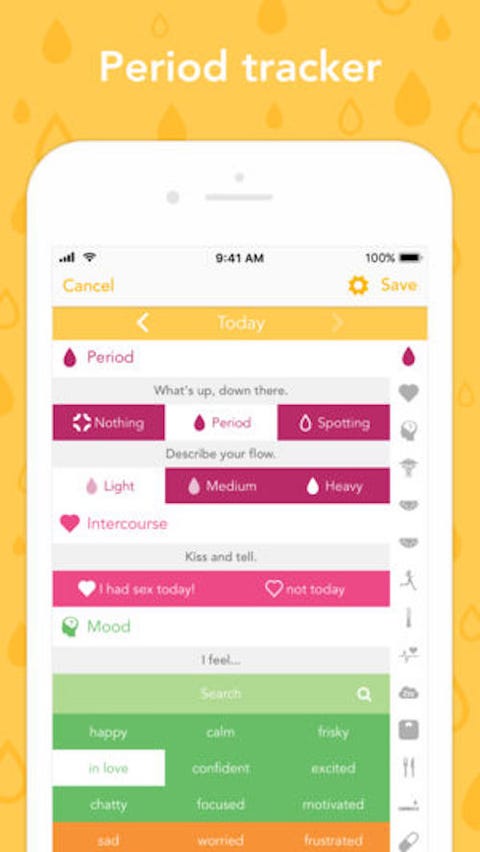 ITUNES
If you're really hoping to not get your period (a.k.a., you're looking to get pregnant), the Ovia app might be your best bet.
It's technically a fertility tracker so it really excels in helping you chart your basal body temperature, cervical position, and cervical mucus. But, unlike a lot of other fertility trackers, it has the ability to chart your period, too, and gives you predictions about your menstruation or fertility based on the data you input.
4Eve by Glow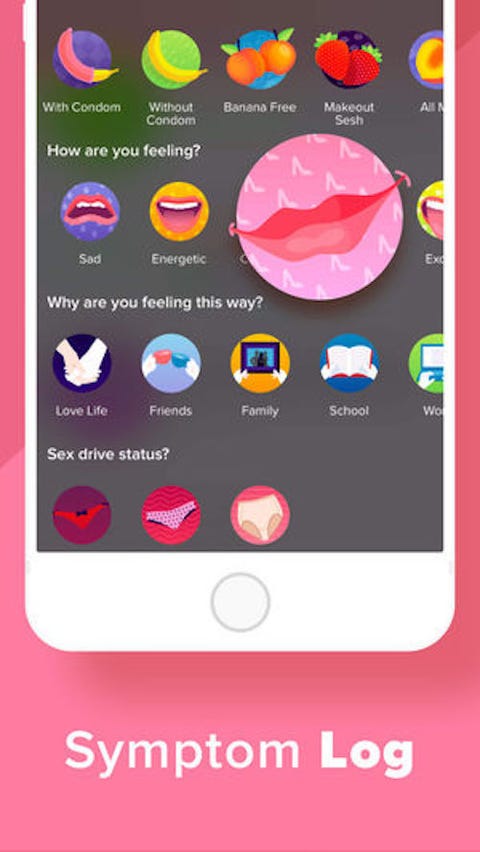 The original Glow app is one of the better rated fertility tracking apps out there, but the Eve version of the app focuses primarily on period tracking, in addition to letting you keep tabs on your sex life and gym habits. Dr. Kudesia compliments its clean and attractive interface, which features colorful, eye-catching graphics and icons.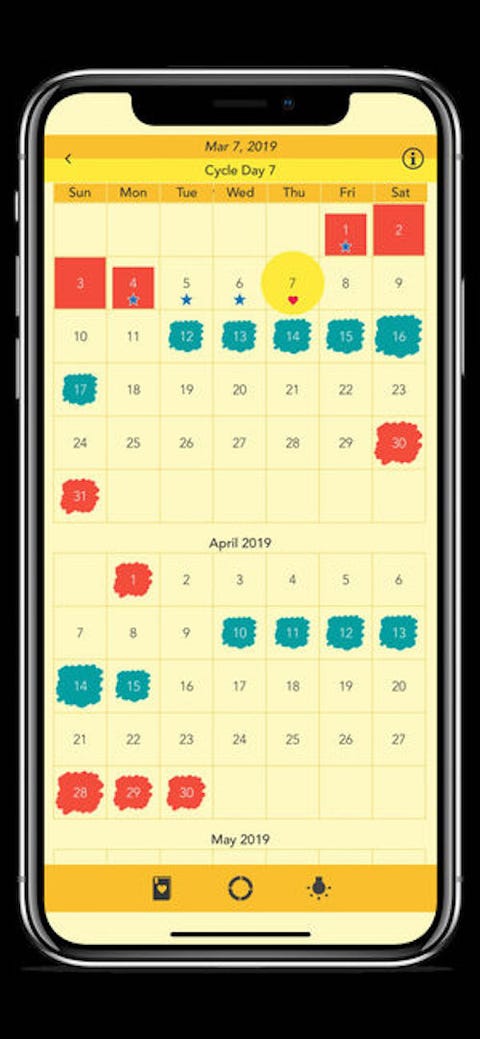 ITUNES
If you're new to getting your monthly flow (or know someone who is), the thought of tracking your period in an app might be kinda intimidating.
Luckily, the MagicGirl Period Tracker was designed with teens in mind, so it makes learning the digital ins and outs of your cycle pretty easy. The app also helps you learn about hygiene product options, chat with other girls and get period advice, and remember to take your birth control pill (something we could all use help with).
The bright interface will be instantly attractive to most teens, but it's a fully functioning period tracker, so there's no minimum or maximum age required for use.
6Period Tracker Period Calendar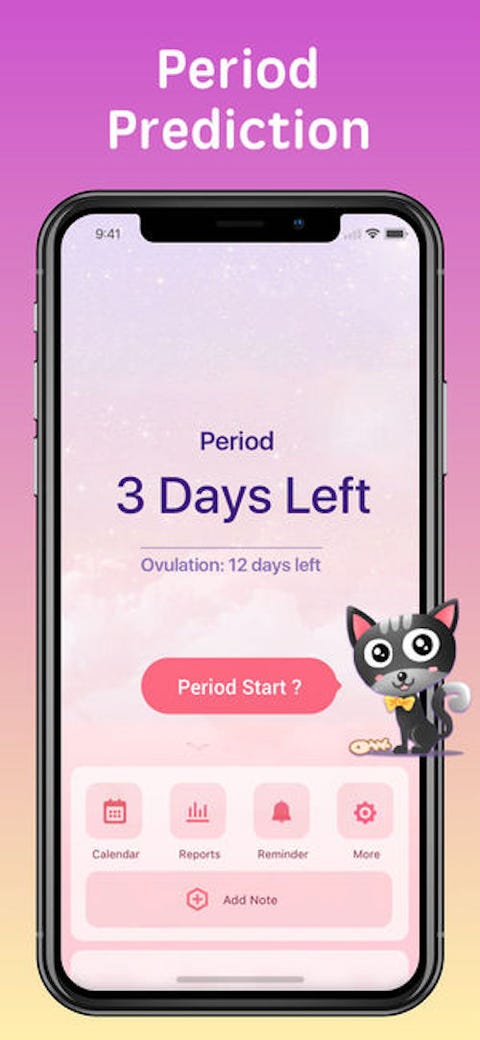 ITUNES
Period Tracker's Period Calendar is the top period tracking app on Google and consistently gets good reviews. A lot of that may come down to ease of use: It's simple to navigate, straightforward in how you track and rate symptoms, and literally anyone—regular or irregular, newly menstruating or premenopausal—can use it. If you're looking for an app that's not fussy and gives you more than enough room to log all kinds of data, this might be it.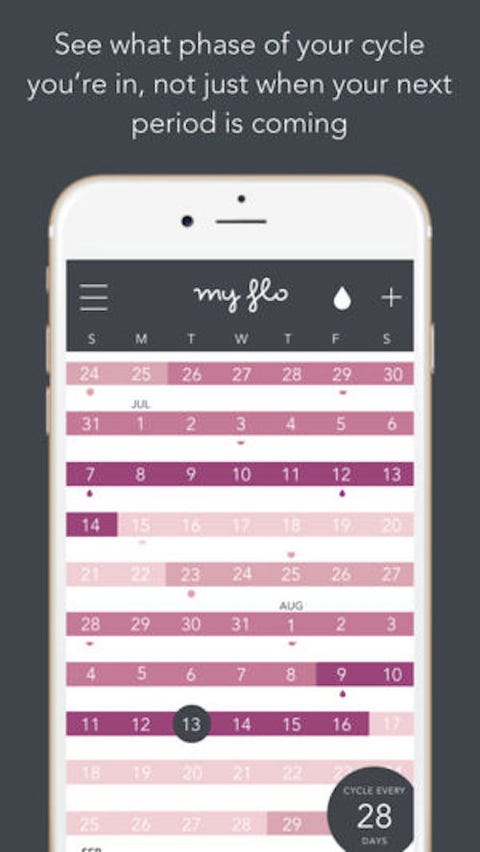 ITUNES
For women with irregular menstruation, women starting menopause, or women wondering why they're experiencing other random cycle symptoms (think excessive bloating, migraines, constipation, or low energy), the MyFlo app promises to do way more than simply track your periods: It takes the symptoms you record and turns them into useful information about your overall health.
My Flo can clue you into possible hormone imbalances and suggests lifestyle changes (like the best foods to eat or activities to engage in) that could make you feel better during different phases of your cycle. The app works great for women with textbook menstruation, too.
GET IT FOR ANDROID8Cycles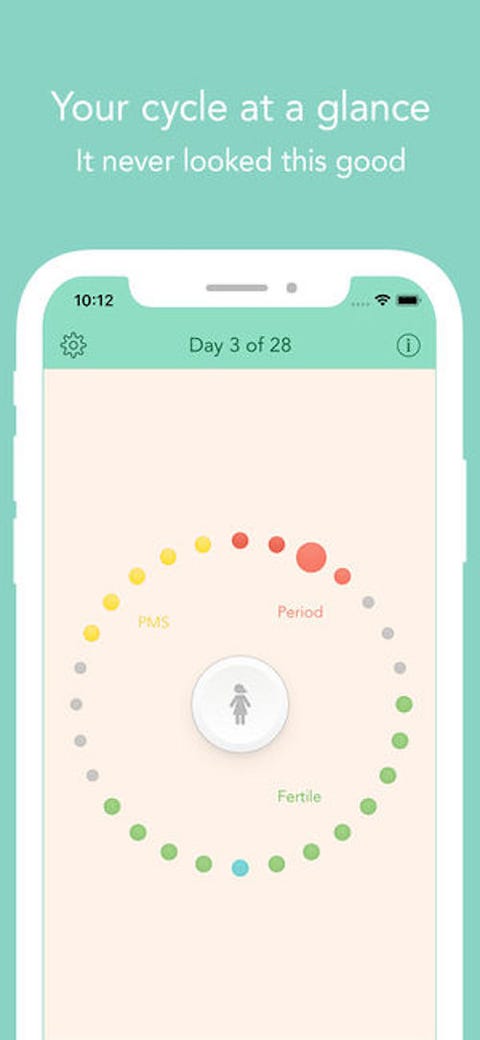 ITUNES
Cycles is ultra-customizable but also just looks good. With simple graphics and soothing colors, this is the period tracking app you want to download if you don't want anyone to know you've downloaded a period tracking app (so you can semi-discreetly update it in public when you need to).
It also stands out from the crowd for the fact that it gets your partner in on the tracking action: You can invite him to sync up with the app on his device so he knows what's up with your monthly mood swings and weird cravings, too.
GET IT FOR APPLEADVERTISEMENT – CONTINUE READING BELOWhttps://cdbca343731877d50746584e2146e95f.safeframe.googlesyndication.com/safeframe/1-0-37/html/container.htmlhttps://cdbca343731877d50746584e2146e95f.safeframe.googlesyndication.com/safeframe/1-0-37/html/container.html9Glow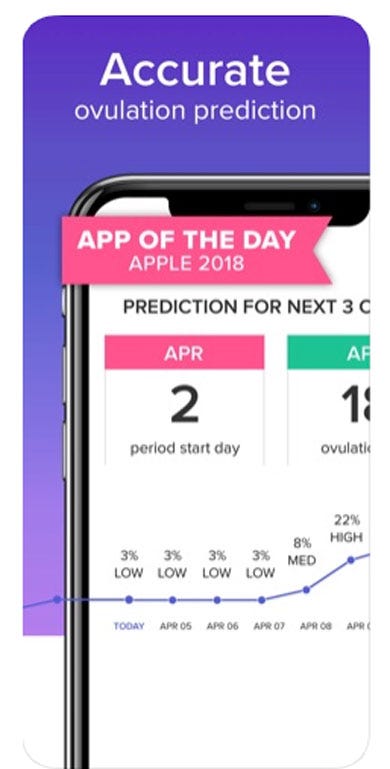 ITUNES
Before the aforementioned Eve, there was Glow—a tried-and-true period app backed by experts like Sheeva Talebian, MD, a board-certified reproductive endocrinologist at CCRM in New York and a Women's Health advisory board member, who considers it to be one of the most useful period apps on the market because of all of the data points it collects. Glow allows you to track 40 different health signals including but not limited to sexual activity and body basal temperature, all through its easy daily log.
Not only can it help you avoid or attempt pregnancy, but it can also help those who are undergoing fertility treatments through their online communities and accessible resources, says Alyssa Dweck, MD, an ob-gyn in Westchester County, New York.
GET IT FOR APPLE
GET IT FOR ANDROID10Cycle Tracking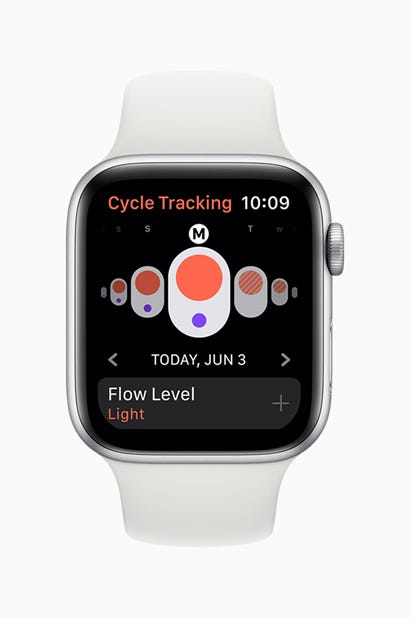 APPLE
These days it seems like you can do just about anything and everything from your…wrist. That includes tracking all things menstruation thanks to the new Cycle Tracking app for the Apple Watch. Available through the iPhone Health app that's already built into the phone, Cycle Tracking gives you the ability to log info related to your cycle, including flow level, symptoms like cramps and mood changes, and basal body temp if you're looking to get pregnant.
Plus, you can opt in for notifications on your watch screen that alert you to when your next predicated period is on its way and when you're in your fertile window (a big win for those trying to conceive).11My Calendar: Period Tracker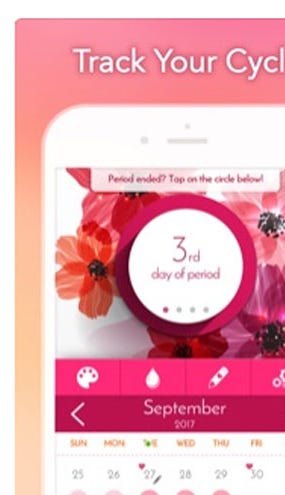 ITUNES
Described as "sophisticated" and "elegant" by Dr. Dweck, this app allows you to customize everything from its watercolor theme to the style of your period reminders as either personal ("your period is due on…") or discreet ("upcoming event…").
Taking birth control? You can finally shut off that daily phone alarm and just schedule pill reminders through the app as well. Dr. Dweck also compliments the app for its ability to be password-protected to ensure that your info remains private.